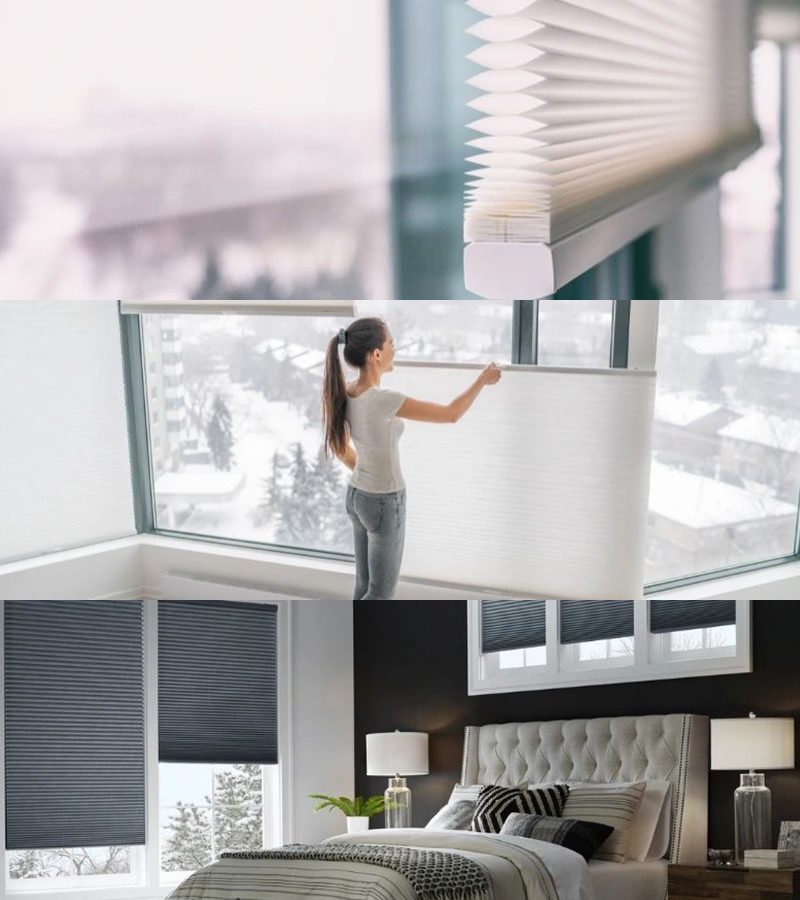 Best Color for Cellular Shades
Cellular shades have quickly gained popularity in recent years, and it's no surprise. Not only do cellular shades look great, but they also offer your home an energy-saving advantage. Cellular shades are known to increase the insulation of your home due to their unique 'honeycomb-like cellular construction. They are also versatile, attractive, provide light control and privacy.
These types of shades are offered in single or double cell pockets. They are widely available from 3/8 to 1 1/2 inch pleats, but wider measurements such as 2-inch pleats are starting to gain popularity in the market. The most common pleat size is 3/4 inch.
At Blended Blinds, we offer different cellular shade features that are customizable to fit your unique needs.
Aside from the variety of size options, cellular shades also come in all sorts of colors and fabrics. Choosing the right color for your cellular shades can dramatically improve the look and feel of your home and can help you save money too.
Here are important factors to consider when choosing the best color for cellular shades:
• Does the color match the trim and molding of your window?
• Does it coordinate with your wall color and flooring?
• Does it go with the fixtures inside your home?
• How much natural light do you want inside your home?

Trending Colors for Cellular Shades
When it comes to color trends this year, the theme is soft and peaceful.
Delicate colors are a favorite for window coverings this year – colors such as grey, teal, and navy can add extra comfort to the room and give it a cozier feel. It's also safe to say that these classic colors won't be going out of style anytime soon.
Tranquil colors such as off-white and shades of beige continue to gain popularity as well. Neutral shades like these are easy to match with the home's interior as they go with multiple color palettes.
There is one thing to keep in mind when choosing lighter shades of fabric, the brighter the white the more the fabric will show dirt and debris, so cleaning your shades will need to be more routine.
Instead of going with pure white, we recommend going with an off-white shade, this will provide a neutral and long-lasting style while hiding dirt, debris, and signs of wear. Learn how to clean your shades here.
Contrasting colors such as black and navy blue are also forecasted as trending colors for window coverings. These colors are known to give a room an ambient and intimate feel.
If selecting a darker color, it's often better to create a contrast between the shade and the wall color. Another advantage to going with a neutral and dark color is that you won't have to worry about color matching if you paint or change decor later down the road.


Light-Filtering vs. Black-Out Cellular Shades
Light Filtering Fabrics
Light filtering fabrics will give you more control over how much light enters the room. They can turn sunlight into a soft glow, which can reduce the need for artificial lighting and give the space an even look.
Light-filtering shades transform harsh sunlight into a soft glow. This brightens more of the room without it being too overwhelming. When you combine light filtering fabrics with cellular shades, the light entering the room will soften and diffuse even more.
Blackout Fabrics
Black-out fabrics can make the room much darker than lighter fabric options since it blocks 99% of visible light. They also offer an adequate degree of privacy and are great for home theatres and bedrooms.
Things to Consider with Color and Shades
There are a few things to keep in mind when you're thinking about the best color for cellular shades in your home.
Type of Room and Its Purpose
For bedrooms, dark fabrics are preferred because it provides the light-blocking privacy needed for your best sleep possible. Dark color window coverings can also work with home theatres and any space that requires limited-to-no visible light.
For living rooms and offices, we recommend light fabrics as they can reduce glare from your TVs and computer screens. Additionally, light fabrics offer your home energy-saving properties. We recommend light fabrics such as off-white and beige for the window coverings in your kitchen and bathroom. The light fabric allows soft natural light into the room and is easier to clean than pure white fabrics.


Do You Want Them to Stand Out?
If you want your window coverings to stand out, pick a color that's different from your walls and flooring. Popular contrast colors include black or navy blue as they stand out very well against neutral-tone walls.
If you want the opposite and prefer your window coverings to blend in, choose a color similar (but not too similar) to your walls or flooring.
Does It Match the Existing Interior and Built-In Fixtures?
The furnishings and built-in fixtures in your home must also be considered when choosing the right color for your cellular shades. Just like the walls in a room, your shades should complement the rest of your home's color palette.
It's important to make sure your window coverings complement the interior of your home, but trying to match colors exactly often fails because while the colors may be similar, lighting can have different effects on the fabric causing the colors to look slightly different and clash.
Blended Blinds: Colorado's Best Option for Blinds, Shades, and Shutters
Cellular shades can provide your home with controlled lighting, privacy, and superior installation. Choosing the best color for your cellular shades can transform the room into a stylish and comfortable space. To make sure you're a hundred percent happy with your new window coverings, we encourage you to consider your color options carefully.
At Blended Blinds, we provide high-quality and custom window treatments at affordable prices.
Contact us for a free in-home consultation, we are Colorado's number one choice for cellular shades, blinds, shutters, and more.