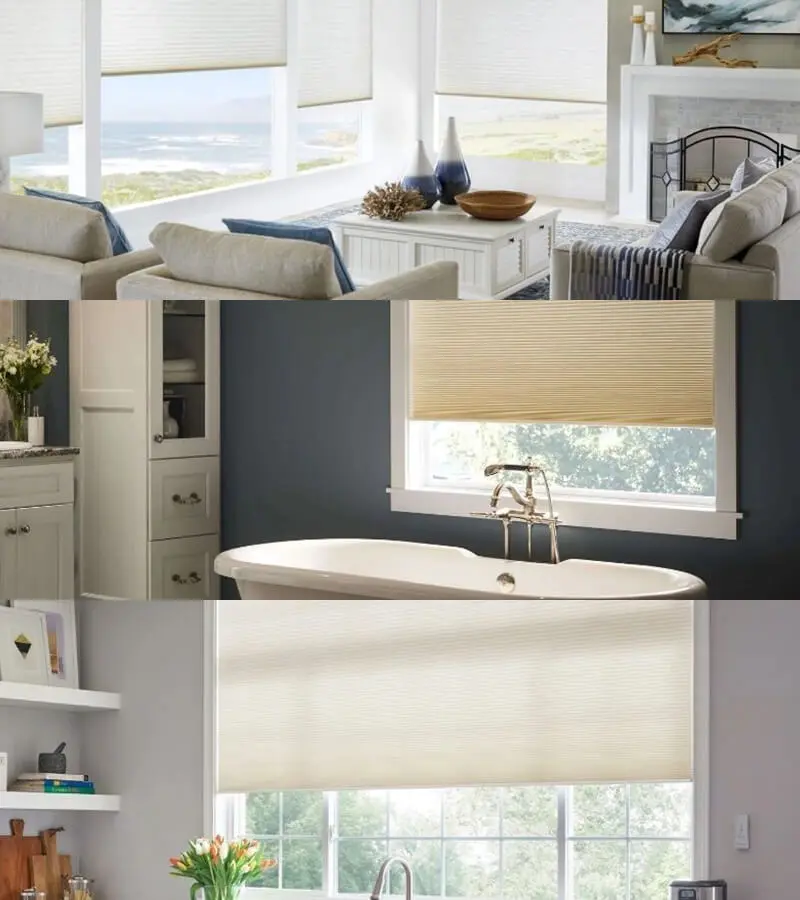 How to Clean Honeycomb Blinds
Honeycomb blinds (also called cellular shades) are a new and popular form of shade. They get their name from the shade pattern that has air pockets inside the shade, similar to a bee's honeycomb. Honeycomb blinds (shades) have become increasingly popular due to their ease of use, insulation properties, etc. However, due to their interior pockets and soft, flexible material, knowing how to clean honeycomb blinds properly is a little more complicated than with a standard blind

What Are Honeycomb Blinds?
Honeycomb blinds (shades) are a style of shade that has hexagonal air pockets inside the shade, just like a bee's honeycomb. Honeycomb blinds/shades have exploded in popularity in recent years due to their soft, lovely appearance that will help make any room feel more beautiful and elegant.
A Great Option for your Home
Honeycomb blinds make for a great addition to any home for a bunch of different reasons.
Insulation
The air space inside the honeycomb shade helps insulate your home from both temperature changes and exterior noise. The honeycomb structure is great for keeping your home cool in the summer and warm in the winter, which will help lower your energy bills.
Customization
Honeycomb shades are also extremely customizable. Blended Blinds offers honeycomb shades in a variety of colors, styles, and fabric options. You can pick whether you want your shades to be bottom-up, top-down, or both, and for fabric, you can choose between sheer, semi-sheer, translucent, or blackout shade fabric. If you're interested, Blended Blinds also offers motorized honeycomb shades for an added layer of convenience and luxury. With all these customizations, you can ensure that honeycomb shades perfectly match the style of your home and specific room.
Safety & Ease of Use
For families with children, honeycomb shades are one of the safest shade options out there. This is because honeycomb shades don't have any visible cords or cord holes, so there's virtually no choking hazard. The lack of holes also means that honeycomb blinds are relatively easy to clean. As an added benefit, the lack of holes in the shade only adds to the honeycomb structure's insulating properties.


Common Cleaning Issues with Honeycomb Blinds
Just like any other part of your home, blinds will also get dirty. We've compiled a few common cleaning issues that arise with honeycomb blinds.
First, it's very likely that you'll find dead bugs and other debris in your cell shades. This is a problem unique to honeycomb blinds since other types of shades don't have cell pockets. Thankfully, it's a very easy fix with the use of a compressed air canister.
Second, just like with any other style of shade, your honeycomb blinds may become dusty and grey over time.
Third, another common issue is that there will be dirt and stains on your honeycomb blinds.
The good news is that most of the time, all of these issues can be solved if you know how to clean honeycomb blinds and have the right products.
Cleaning Honeycomb Blinds
Shades and blinds are notoriously tricky to clean, and honeycomb blinds are no exception. Learning how to clean honeycomb blinds can save you money while keeping the blinds functioning at their full potential. You'll want to follow this step-by-step procedure below to ensure that you properly clean your honeycomb blinds and don't inadvertently damage them.
Step 1: Assess how dirty your blinds are
The first step is to assess how dirty your blinds are. The procedure for cleaning honeycomb blinds that are completely filthy is obviously a little more hands-on than cleaning a shade that only has a bit of dust on it. You'll want to examine the exterior of your blinds in addition to inside the cells to see if any bugs or debris have gotten stuck in there.
Step 2: Purchase the proper equipment (chances are, you already have it)
There are a few important things you'll need to properly clean honeycomb blinds. The good news is, these cleaning supplies are basic household items. You'll want a can of compressed air, a vacuum with a vacuum hose attachment, and a washcloth with warm water and mild soap.
Step 3: To clean the inside of your blinds, use compressed air
Oftentimes, bugs and other pieces of debris will get stuck inside the cells of your blinds. Although these parts may seem difficult to clean, it's really quite simple. All you'll need is a can of compressed air that you'll blow through each individual cell to push any dead bugs or debris out on the other side.
Step 4: To remove dust and/or other debris on the outside, use a vacuum hose
The biggest issue that people have with keeping their honeycomb blinds clean is the buildup of dust and other debris. Removing this dust is also easy with the use of a vacuum hose with a brush attachment or a handheld vacuum. Simply use the hose on a low-to-medium setting while using horizontal strokes to follow the pleat of the fabric. This technique will gently remove dust while ensuring you don't accidentally crumple or distort the fabric.
Step 5: For any stains, blot with a damp, warm washcloth and mild soap
If you have any stains that won't come out with a vacuum, we recommend using mild soap and a damp washcloth. Be sure to blot instead of scrub so you don't damage the blind.
Professional Cleaning Services
If you've tried all the methods above and you find that your shades are not as clean as you'd like them to be, you may need more specialized cleaning. There's a method called ultrasonic cleaning where a professional service will come to your house. They bring a large tank of cleaning solution, which they dip your blinds into. Then, high-frequency sound waves create millions of microscopic bubbles that remove dust, dirt, bacteria, and other debris safely. What's great too is that this method will clean inside of cell pockets, giving your honeycomb blinds a full, deep cleaning. Fortunately, ultrasonic cleaning is not necessary most of the time, since normally, basic methods like using a vacuum, duster, or blotting with a damp towel should do the job.


Blended Blinds Honeycomb Blinds
If reading about honeycomb blinds has made you interested in installing them in your home, you should think about inquiring with your local window blinds company.
If you live in the Denver, Colorado area, there is no better blind company to work with than Blended Blinds.
Not only do we offer a free in-home consultation, but we will then work with you during every step of the blind selection and installation process.
We pride ourselves on delivering high quality work at reasonable, affordable prices to ensure that your blinds and shades complement your home's natural beauty.